rice rava rice flour | undrallu kudumulu
The rice rava is a very popular dish that is sure to be loved by everyone who tries it. Though it looks very complicated, rice rava can be easily made from the comfort of your own home. Created by parveen, this simple and quick rice rava can be easily prepared. The rich flavours and aromas of rice rava are sure to appeal to your senses, set your taste buds tingling and make everyone keep on asking for more! Along with the lovely taste, rice rava has various nutritional benefits, making rice rava a perfect accompaniment for various family gatherings and occasions. The detailed step-by step procedure for creating rice rava has been provided and can easily be followed by everyone. This rice rava is every food lovers dream, so go ahead and cook this rice rava with your loved ones and from the comfort of your own home!
Ingredients (240 ml cup used)
How to make the recipe
Follow the Instructions in the step by step photos.
How to make rice rava for undrallu/ kudumulu
1. Wash the rice thoroughly and soak for at least 2 hours. If you do not have time, you can just wash and drain off in a colander.
2 After the water is drained completely, transfer the rice to a dry clean cloth.
3. Spread it evenly and fan dry for about 2 hrs or sun dry till they dry completely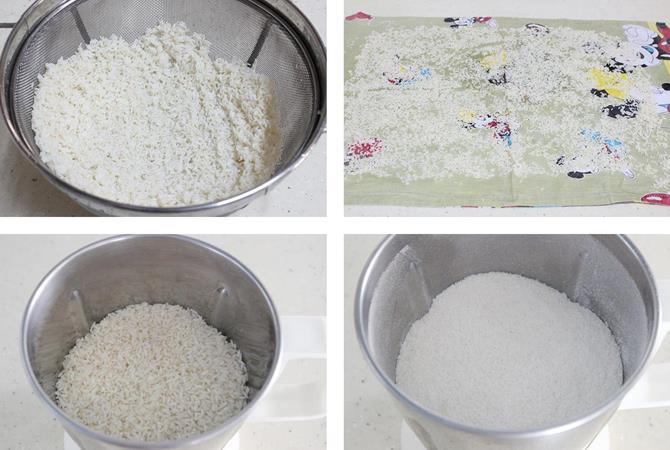 4. Powder the rice to rava or flour in a mixer jar
5.Sieve to remove large grains. This is optional, if you don't have large grains
6. If using new harvest rice, sieve and separate the flour. Use only the rava for undrallu and store aside the flour for making chalimidi or for dosas. This must be done to avoid undrallu from becoming sticky. * this step is not required if using aged rice
7. Make sure the rava is dry fully before you move it to a jar.